Keynote & Plenary Speakers
Keynote & Plenary Speakers
Keynote Speaker I:
"Title: tab"
Abstract: tab
Bio-Sketch
Professor Wen received his Bachelor of Science degree from the Department of Mechanical Engineering at the National Taiwan University in 1986 and Master of Science and PhD from the Department of Aeronautics at the California Institute of Technology (Caltech), U.S.A. in 1989 and 1994 respectively. He worked at Caltech as a Research Fellow from February 1994 to July 1994 and then continued his teaching and research works at the Department of Mechanical Engineering at the Da-Yeh University, Taiwan. He was promoted to full professorship in February 2002. He had been the Chairman of the Department of Mechanical and Vehicle Engineering from August 1997 to July 2000, and the Provost from August 2004 to July 2006 in the Da-Yeh University, Taiwan. In August 2006, Professor Wen joined the Department of Aeronautics and Astronautics of the National Cheng Kung University (NCKU),
Taiwan, before joining the Department of Mechanical Engineering, The Hong Kong Polytechnic University in 2012 as professor. He is currently the associate head of ME department. Professor Wen has authored and co-authored more than 160 scientific papers, conference papers and book chapters. He was also awarded 14 patents. His current research interests are in the areas of (1) Hypersonic aerothermodynamics; (2)Shock/Droplet and Shock/Bubble Interactions; (3) Detonation; (4) Flow Control by plasma actuators on a delta wing; (5) Technology development of UAVs and MAVs; and (6) Ice Accretion. Professor Wen, currently an AIAA Associate Fellow and editor of the prestigious international journal—AIAA Journal and Shock Waves, serves as the vice chair of the technical committee of fluid mechanics, ASME and a member of, various key professional boards and bodies related to the Aerospace Engineering.

WEN Chih-Yung

Professor of The Hong Kong Polytechnic University, Hong Kong
Keynote Speaker II:
"Title: tab"
Abstract: tab
Bio-Sketch
Prof. Changduk Kong graduated with a BSc in Aerospace Engineering from the Korea Aerospace University-National (Hons.) and a PhD in Aerospace Engineering from the Osaka Prefecture University, Japan.
He worked as Head of the Aero-Propulsion Division of ADD (Agency for Defence Development in1978-1994. He served as Professor at Department of Aerospace Engineering of Chosun University during 1994-2016, and was appointed as Dean of the School of Aerospace and Naval Architecture Engineering in 1999 and 2005-2006, and Dean of the Facility Management Office at Chosun University in 2011-2012. He has served as International Visiting Professor at Department of Aerospace Engineering of IIT(Indian Institute of Technology) Kharagpur, India in 2017-2021, Invited Professor at School of Aerospace and Mechanical Engineering of Korea Aerospace University, in 2016-2019, Invited Professor at Summer School of BUAA(Beijing University of Aeronautics and Astronautics), China in 2017-2019, and Emeritus Professor at Department of Aerospace Engineering of Chosun University since 2016. He was invited as Visiting Professor at Department of Aeronautics of Imperial College, UK in 2001-2002.
Prof. Kong has contributed greatly to the development of Aerospace Engineering in Korea, primarily through his roles as a non-standing Director of KIAST(Korea Institute of Aviation Safety Technology) in 2015-2018, a non-standing Director of AMRC(UK)-Korea in 2016-2020, CTO of EGT Company, President of KNST(Korea Society for Naval Science and Technology) in 2017-2018, President of SASE(The Society for Aerospace System Engineering) in 2013-2016, President of ICRC (International Collaboration Research Centre in Natural Composites, Chosun University in 2012-2014, President of KSAS(The Korean Society for Aeronautical and Space Sciences in 2010 President of KSPE(The Korean Society of Propulsion Engineers in 2007-2008, Chair of Cycle Innovation-IGTIASME in 2009-2011, President of RIME(Research Institute of Mechanical Engineering-Chosun University) in 2006-2008, and First Lieutenant of ROKAF(Republic of Korea Air Forces) in 1974-1978.
He has served as Editorial Board Members of IJTJ(International Journal of Turbo & Jet Engines), IJCM(International Journal of Composite Materials), CJS(Chinese Journal of Aeronautics) and AEAT(Aircraft Engineering and Aerospace Technology) since 1998, and Editor-in-Chief of JKSAS(Journal of Korean Society for Aeronautical and Space Science) and JKSPE(Journal of Korean Society of Propulsion Engineers) in 2006-2010. He received the Korean National Decoration in Science, Academic Achievement Awards from KSAS, SASE and KSPE, Defence Science Medals and the 2015 KAI-KSAS Prize for his scientific achievement and contribution to Korean aerospace development.
Prof. Kong has authored and co-authored more than 616 papers including 67 SCI journal papers, and has received numerous lecture invitations from companies, research institutes and universities and delivered eleven keynotes and invited lectures at international conferences. He has organized 26 national conferences, forums and workshops and was co-organiser on four international conferences.

Changduk Kong

Professor of Chosun University, South Korea
Keynote Speaker III:
"Adaptive Event-Triggered Control of Multi-Agent Systems"
In this talk event-triggered control will be first overviewed. The motivation and major event-triggering mechanisms will be discussed. The challenging issue on exclusion of Zeno behavior will be highlighted. Then the adaptive event-triggered control will be considered for heterogeneous multi-agent systems. A fully distributed adaptive even-triggered control scheme will be presented for output consensus of such multi-agent systems. It is shown that the output consensus problem can be solved by the proposed adaptive event-triggered control scheme if a necessary and sufficient condition is satisfied. The feasibility of the proposed control scheme is discussed by excluding Zeno behavior. A numerical example is given to illustrate the effectiveness of the proposed control scheme.
Bio-Sketch
Gang Feng received the B.Eng and M.Eng. Degrees in Automatic Control from Nanjing Aeronautical Institute, China in 1982 and in 1984 respectively, and the Ph.D. degree in Electrical Engineering from the University of Melbourne, Australia in 1992.
Professor Feng was a Lecturer in Royal Melbourne Institute of Technology, 1991 and a Senior Lecturer/Lecturer, University of New South Wales, 1992-1999. He has been with City University of Hong Kong since 2000 where he is now a Chair Professor of Mechatronic Engineering. He has received a ChangJiang Chair Professorship award conferred by Ministry of Education, the Alexander von Humboldt Fellowship, the IEEE Transactions on Fuzzy Systems Outstanding Paper Award, the Shimemura Young Author Prize of the Asian Control Conference, the Best Paper Award of IEEE International Conference on Neural Networks and Signal Processing, and the Best Theoretical Paper Award in the Second World Congress on Intelligent Control and Automation. He is listed as a SCI highly cited researcher by Clarivate Analytics. He is an author of one research monograph entitled "Analysis and Synthesis of Fuzzy Control Systems: A Model Based Approach", and over 300 SCI indexed papers including over 130 in IEEE Transactions. His research interests include intelligent systems and control, networked control systems, and multi-agent systems and control.
Professor Feng is a fellow of IEEE. He has been the Associate Editor of IEEE Trans. Automatic Control, IEEE Trans. on Fuzzy Systems, IEEE Trans. Systems, Man, & Cybernetics, Mechatronics, Journal of Systems Science and Complexity, and Journal of Control Theory and Applications.

Gang Feng

Professor of City University of Hong Kong, Hong Kong
Plenary Speaker I:
"Title: tab"
Abstract: tab
Bio-Sketch
Dr X.J. Jing received the B.S. degree from Zhejiang University, Hangzhou, China, in 1998, the M.S. degree and PhD degree in Robotics from Shenyang Institute of Automation, Chinese Academy of Sciences, Shenyang, China, in 2001 and 2005 respectively. He achieved the PhD degree in nonlinear systems and signal processing from the Department of Automatic Control and Systems Engineering, University of Sheffield, Sheffield, U.K., in 2008.
He is now an Associate Professor with the Department of Mechanical Engineering, the Hong Kong Polytechnic University (PolyU) even since July 2015. Before joining in PolyU as an Assistant Professor in Nov 2009, he was a Research Fellow with the Institute of Sound and Vibration Research, University of Southampton, working on biomedical signal processing. His current research interests include: nonlinear frequency domain methods, nonlinear system identification/control or signal processing, and bio-inspired systems and methods, with applications to vibration isolation or control, robust control, sensor technology, energy harvesting, nonlinear fault diagnosis or information processing, and robotics etc.
Dr Jing received 2016 IEEE SMC Andrew P. Sage Best Transactions Paper Award for the robust control theory in vehicle suspension systems; The passive anti-vibration structure developed by his group received 2017 TechConnect Innovation Award, recognized as the top 20% of all submitted technologies as ranked by the TechConnect Corporate & Investment Partner Committee, which was also reported in many local media press including a specific interview in a TVB program in 2017; He was honored with the 2017 EASD Senior Research Prize in the area of development of methodologies for structural dynamics due to "his important contributions for the analysis and design of nonlinear systems", awarded by the European Association for Structural Dynamics (EASD), which is an important and prestigious once-3-year event in Europe; The innovative technology BIAVE (bio-inspired anti-vibration exoskeleton for operating hand-held demolition tools) invented by his R&D team received the 2017 Hong Kong CIC Construction Innovation Award (The First Prize in Construction Safety, one of the three First Prizes among more than 120 submissions), which is an important well-recognized once-2-year event in HK with international peers as award committee members each time.
Dr Jing currently serves as Technical Editor of IEEE/ASME Trans. on Mechatronics, Associate Editor of Mechanical Systems and Signal Processing, and also as editorial board members of several other international journals. He was the lead editor of a special issue on "Employing nonlinear benefits in engineering" in the archive journal MSSP in 2018, which is becoming an important and most active research area and has been pursued by Dr Jing in the past years ever since 2005.
Dr Jing is a Senior IEEE member, and actively participate different R&D activities in IEEE community including organizing IEEE conferences and summer camp.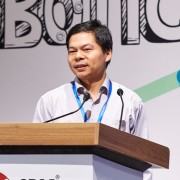 Professor of The Hong Kong Polytechnic University, Hong Kong